Support JNIOSH
National Institute of Occupational Safety and Health, Japan
JNIOSH welcome for your contribution.
We widely receive your support and cooperation for our research activities.
How to make a gift.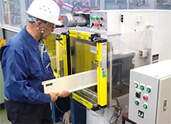 1. About gifts
You can support us by cash, security, real estate and facility. Also we welcome experimental properties such as laboratory equipments by joint researchers.
2. About acceptance of your gift
Criteria for acceptance of your contribution are as follows.
(a) The contribution has to be within the range of research activity in the 11th article of the act on the National Institute of Occupational Safety and Health, Japan.
(b) The person who tries to contribute us should not expect any return from JNIOSH against the contribution.
The method of contribution
About preferential treatment in the tax law
You may be applied to some benefits for tax payment with your contribution. These preferential treatments are available to both individual person and corporate body.
Question and application
If you have any question, please contact us any time.
Independent administrative agency National Institute of Occupational Safety and Health, Japan (JNIOSH) Department of Research Planning Coordination
〒204-0024 1-4-6, Umezono, Kiyose-shi, Tokyo
Telephone: +81-42-491-4512 Fax: +81-42-491-7846